I'm so excited for our Christmas cards this year! They are finally finished, ordered and shipping this week! I can't wait to get my hands on them! And, thanks to Shutterfly
, they were free!!!
Funnily enough, after my top five picks from the original Shutterfly Christmas Card post, I we ended up with something completely different. And, what's so great is that they are folded cards, so they have an inside too!
We decided to use a well-known Christmas tale and a lot of pictures like this...
Don't worry though, Big Brother and the rest of us make appearances too! (If you want a sneak-peek of the card, read all the way to the end).
If you still need to make your cards this season and have a blog, you can submit here to apply for 50 free cards. And, even if you don't have a blog, there are some good Shutterfly deals this week, including free shipping: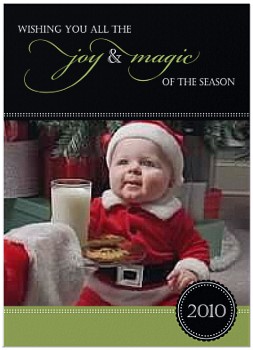 Joy Sage Story Christmas 5x7 folded card